African American braided bun hairstyles
Embrace the Elegance of Braided Buns
When it comes to showcasing the beauty and versatility of black hair, braided buns take center stage. Whether you're rocking box braids, cornrows, or twist braids, these captivating hairstyles have got you covered. From casual days to special occasions, these protective styles offer an array of possibilities. Let's dive into the world of braided bun hairstyles that'll have heads turning and the spotlight on your natural braided hair.
Showstopping Braided Buns for Black Hair
1. Crowned in Romance: The Cornrow Bun with Loose Curls
Get ready to swoon over these intricate heart-shaped feed-in braids. The soft, loose waves add a touch of romance, perfectly complementing the regal large bun on top. This braided bun hairstyle is pure elegance, making it the ideal choice for any special occasion.
2. Mini Marvel: The Artful Mini Box Braids Bun
Box braids have entered a new dimension with this creative criss-cross detail at the back. It's a fresh take on styling box braids, giving you a unique and trendy appearance.
3. Cornrow Magic: The Intricate Back Detail
A bun is the perfect canvas to showcase the beauty of cornrows. Let those intricate geometric patterns shine at the back of your head, and don't hesitate to add beads for that extra flair.
4. Bold and Beautiful: The Large Box Braids Half Updo
Effortless and versatile, this style works its magic on loose hair, box braids, and twist braids alike. Those long, thick braids, achieved with black hair, create a stunning visual, while the bun's elegance remains consistent, be it micro braids or thicker ones.
5. Curly Delight: The Double Bun with Bangs
Knotless box braids meet vibrant curls in this stylish masterpiece. The glossy black hair shines brightly, adding a healthy glow to the bun. Elevate your braided bun game with this radiant choice.
6. Elegance Redefined: The Sophisticated Braided Bun
An epitome of grace, this style exudes elegance. Perfect for formal events or as an everyday office look, this braided bun hairstyle captures professionalism without compromising on style.
7. Burst of Color: The Accessorized Box Braid Bun
Let your creativity shine with this eye-catching bun. Small box braids adorned with colorful accessories create a unique visual. The grand braided bun steals the spotlight, ensuring all eyes are on you.
8. Trendy Vibes: The Chic Cornrow Fusion
Unleash the trendsetter in you with these chic cornrows. Geometric shapes and box braids join forces, culminating in a neat bun at the nape of your neck. Your bold braids take center stage.
9. The Cornrow Canvas: Mini Cornrows and a Bun
Embrace the opportunity that cornrows offer for a stunning bun. A solid foundation for an updo, these cornrows set the stage for a breathtaking braided masterpiece.
10. Playful Harmony: Black and Red Feed In Cornrows
Watch as this braided hairstyle evolves before your eyes. The transition from black to red adds intrigue, making it more than meets the eye. Opt for the braided bun for a polished finish.
11. Top Knot Elegance: The Curly Top Knot Bun
Top knots draw attention with their elevated placement. This easy protective style suits both long and short hair, ensuring you rock a confident, captivating look.
12. Simple Sophistication: The Hearts and Triangle Cornrow Bun Hairstyle
Transitioning from cornrows to a bun has never been easier. Wrap, secure, and go – effortlessly chic is the name of the game with this braided bun.
13. Effortless Chic: The Chunky Side Braids
Sometimes, simplicity speaks volumes. This style lets the artful hair parting do all the talking, resulting in a lasting impression that needs no embellishments.
14. Golden Glamour: The Heart-Adorned Box Braids Bun
Chunky braids come together to form a striking bun. The interplay of size, height, and color complements the model's skin tone, turning heads wherever you go.
15. Delicate Sophistication: The Cornrow Updo with Hair Cuffs
Simple yet sweet, this cornrow updo transitions seamlessly into a braided bun. Hair cuffs and rings add a touch of personality to your elegant look.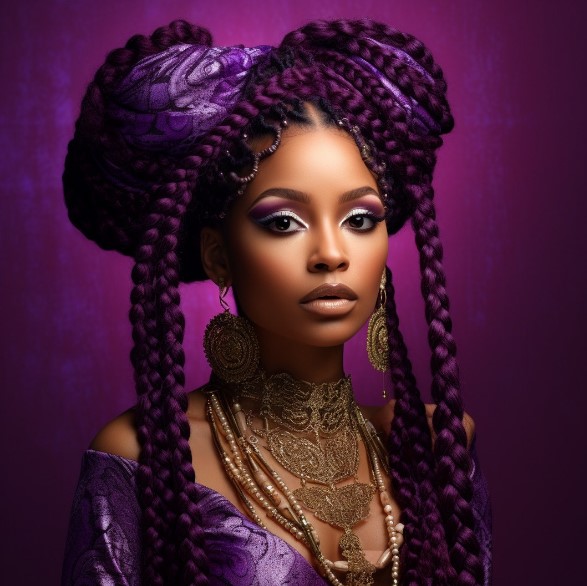 16. The Definition of Beauty: Gorgeous Cornrows into a Braided Bun
Combining varying cornrow thicknesses results in stunning hairstyles, just like this one. Embrace the simplicity that radiates confidence.
17. Bold Statements: Purple and Black Box Braids in Braided Bun
Jumbo braids take on a life of their own, forming a statement-making bun. Whether you go bold with purple or a color of your choice, this look is worth the try.
18. Timeless Elegance: The Simple Cornrow Bun Updo
Simplicity is the key to this timeless braided bun hairstyle. The alternating cornrow sizes add intrigue, creating a captivating but uncomplicated look.
19. The Art of Expression: Stylish Cornrow Bun
Accessories and parting combine to create an expressive statement. The bun crowns this masterpiece, capturing attention wherever you go.
20. Beauty in Simplicity: Beautiful Cornrow Bun
Sometimes, creativity lies in simplicity. With the right parting and feed-in braids, you can create a showstopping appearance.
21. Twisted Sophistication: Flat Twists into Bun
Effortlessly beautiful, this style showcases the charm of flat twists. They culminate at the back in a twisted bun, creating a relaxed yet captivating look.
22. Fiery Allure: The Bold Red Bun
For the fiery souls out there, this bold red bun is a dream come true. The unique parting and vibrant color ensure all eyes are on you.
23. Timeless Tradition: Traditional Braided Bun Updo
Embrace tradition with this versatile braided bun hairstyle. Dress it up or down as you please, making it a perfect match for any occasion.
24. Balanced Beauty: Brown Braided Bun
While high and low buns are popular, don't underestimate the charm of a centered bun. The alternating cornrow sizes add depth to this effortlessly beautiful look.
25. Dramatic Symmetry: Double Low Buns
Play with symmetry using two criss-crossing braids. The heart in the center adds drama, making this bun hairstyle a true masterpiece.
26. Elevate the Drama: Braided Triple Bun
Take your hair from work to play with this dramatic triple-tier bun. The braided cornrows create a captivating height that demands attention.
27. Splash of Color: Two Curly Low Braided Buns
Add a pop of color to your look while maintaining natural hair color. Change the color and texture of your bun hairstyles, keeping your style fresh and vibrant.
28. Trendsetting Chic: Low Braided Bun
Stay ahead of trends with these trendy feed-in braids. The low bun offers a sleek and polished finish, while accessories like beads and shells enhance your individuality.
29. A Bold Statement: Large Green Braided Bun with Heart Design
If bold is your style, this one's for you. From the green box braids to the heart shape braid and towering bun, this look exudes confidence and daring.
30. Tribal Beauty: The Tribal High Bun
Buns fit all hairstyles, from simple to intricate. This tribal masterpiece, adorned with a bun and accessories, sets a unique tone, fit for any elegant occasion.
The Marvel of Braided Buns
Braided buns are your go-to low-maintenance option, whether you're rocking natural hair or intricate braids. From daily wear to elegant affairs, these styles protect your hair while keeping it effortlessly chic. Shield your strands from the elements, eliminate distractions, and reinvent your look with a simple bun. Let's raise a toast to the timeless charm of braided buns – a style that's here to stay!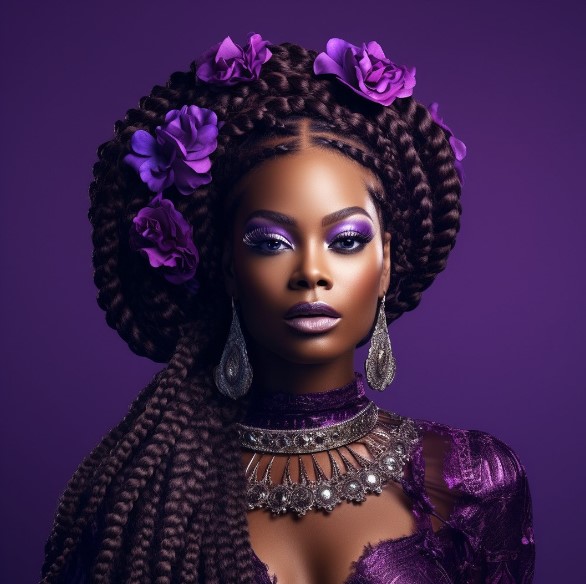 Unveiling the Benefits of Braided Bun Hairstyles
Braided hairstyles have a reputation for their versatility and effortless beauty, and braided buns are no exception. Let's delve into the benefits of rocking these stunning styles.
Easy Elegance: Braids effortlessly elevate your hair game while requiring minimal effort to maintain.
Healthy Locks: Sporting a braided bun gives your hair a well-deserved break, promoting its health and vitality.
Ultimate Protection: The intricate plaited structure safeguards most of your hair from environmental factors, ensuring its overall quality.
Endless Variety: With an array of braids to choose from, such as cornrows, micro braids, and twist braids, you'll always find a unique style that captivates.
Elevating Hair Protection: The Power of Protective Styles
Braided updos are the epitome of protective styles. Whether you're donning weaves, twists, or braids, bundling them into an updo offers enhanced hair protection.
Locking in Beauty: By sparing your hair from daily styling, protective styles grant it a chance to recover and grow stronger.
Low Maintenance, High Style: The low effort required for protective styles is a major plus. Once set, you're always ready to seize the day.
A Path to Growth: If you're aiming for longer hair, protective styles reduce manipulation, contributing to healthier growth.
Bye-Bye, Split Ends: Updos prevent split ends and breakage, aiding your hair's journey to glorious lengths.
Locked-in Goodness: Protective styles help retain natural oils, leaving your hair soft and supple after taking a break from styling.
Beyond Buns: Explore the Diversity of Updo Hairstyles
While braided buns steal the spotlight, there's a world of sophisticated updo hairstyles waiting to be explored by black women. These styles celebrate individuality, beauty, and creativity, each telling its own captivating story.
This article is your guide to embracing the charm of braided bun hairstyles for black hair. From protective benefits to artistic expression, these styles are a canvas for your individuality. So whether you're channeling regal elegance or bold uniqueness, let your hairstyle speak volumes and celebrate your beauty. It's time to rock those braided buns with confidence and flair!
In the realm of black hair styling, braided bun hairstyles are a reigning favorite. They combine protection, style, and individuality into stunning looks that captivate the eye and reflect your personality. Whether you're a fan of sleek elegance, daring creativity, or timeless charm, there's a braided bun style that resonates with your essence. So, it's time to elevate your hair game, embrace the benefits of protective styles, and rock those braided buns with flair. With each bun, you're not just styling your hair; you're making a statement, embracing your roots, and celebrating the beauty of diversity. Long live the power of braided buns!